49% Off House of Udang Galah: 1kg Giant Freshwater Prawns for up to 6 People for RM88
Restaurant offering Chinese and Western fusion cuisine, specialises in dishes made with giant freshwater prawns.
Located within a refurbished 100-year-old heritage shop house along Hutton Lane.
Wi-Fi available.
Seafood dishes can provide physical support through their nutrition, and emotional support as one is reminded that there's plenty more fish in the sea. Count blessings with today's Groupon: for RM88, you get 1kg of giant freshwater prawns for up to six people (worth RM174) from House of Udang Galah in Hutton Lane, Georgetown.
Meal includes
1kg of udang galah or giant freshwater prawns; approx. 5 – 6 prawns (RM150 value)
Cooking styles, choose 1:
– Butter garlic sauce with vermicelli
– Deep-fried with garlic flakes
16% Government tax and service charges (RM24 value)
Customers also get:
Top-up RM3 for a cup of Mexican Arabica Guatemala house-brewed coffee
1x free bottle of wine with multiple-course dinner orders amounting to less than RM500
2x free bottles of wine with multiple-course dinner orders amounting to more than RM500
House of Udang Galah
House of Udang Galah relishes the heritage and long-held christening of the freshwater prawn as a dietary delicacy in the fishing days of yore, featuring the namesake crustacean as its mascot dish in an array of signature dishes.Modern renditions of familiar Chinese dishes such as double-boiled soup and the oriental-inclined infusions of rice wine sit juxtaposed alongside more novel concoctions fusing Western flavours with the restaurant's generous affinity for the shellfish. Diners looking to have the spotlight widened can opt for dishes such as the Thermidor prawns served with sizzling chicken, aglio olio, or lamb cutlets; or have taste buds piqued with servings of udang galah in tom yam. Meanwhile, the restaurant's mainstay servings of prawn proffer a healthy mix of zests, with choice garnishing including specialty lime sauce, premium soya sauce, and butter garlic sauce making up but a few of the options adding flavourful twists. In line with the extolling of heritage, the restaurant comes housed in a centennial shop house along Hutton Lane, where traces of its former manifestation have been molded and added on to, like the restaurant's rear corridors that hold passages through bubbling tanks and aquariums yielding glimpses of calm crustaceans.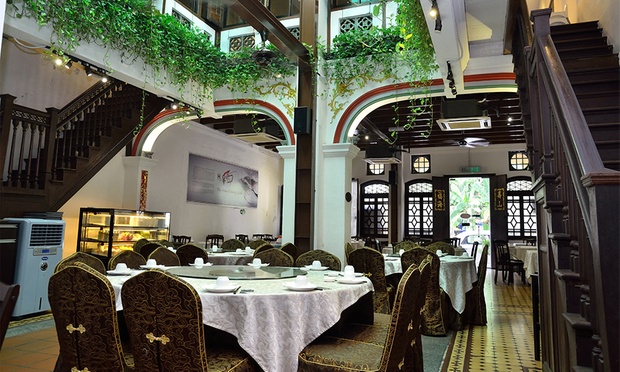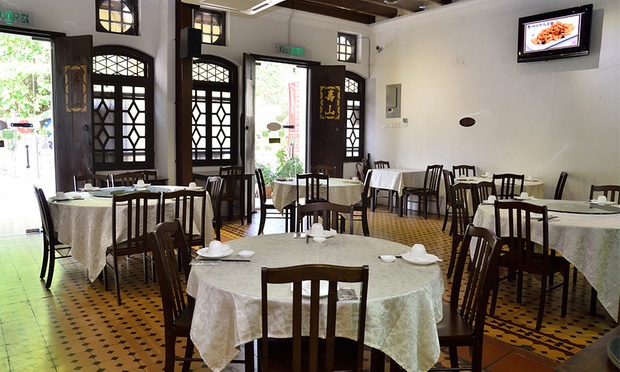 Reviews
A non-spicy steamed prawn dish is the Drunken Style Udang Galah. Prawns are steamed with Chinese herbs, black fungus and Chinese wine in superior soup. The flavours go well together. The flesh is firm and sweet and the head comes with soft yellow roe. – Mar 30, 2013
– CK Lam
I saw a lot of positive remarks on this type of preparation (Udang Galah in Chef Specialty Lime Sauce) and how much emphasis H.U.G. gave in promoting this as well; and indeed this was a fabulous dish as the fresh water prawns were super fresh, with the deep flavors of H.U.G's signature Lime sauce infused within it well. The sauce was spicy, sourish and refreshing all in one go. Highly recommended and thumbs up! – Jun 10, 2013
– Cheryl Wee